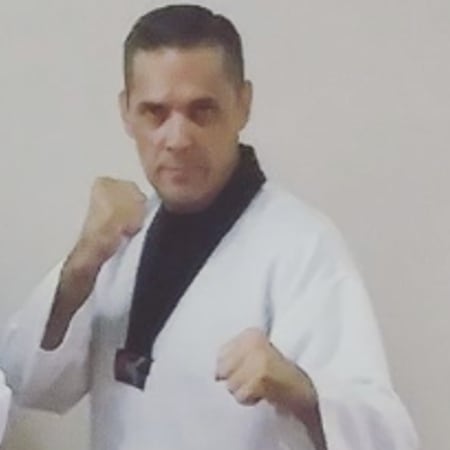 Steve Rodness
Mr. Rodness has been training in martial arts for 40 years and is a 7th Degree Black Belt Senior Master in Tae Kwon Do. He was inspired by Bruce Lee as a kid and would watch Kung Fu cinema every Saturday. He had posters of Bruce Lee and would even act out scenes! He developed his skill in Sacramento where he met his mentor. Martial Arts have been his passion since 1978 and he's dedicated to sharing his passion with his community.
His program has proven to be an excellent method of teaching martial arts, promoting self-confidence and discipline. Mr. Rodness is a 3rd degree black belt in Brazilian Jiujitsu under Charuto Verissimo Nova Uniao. He is also a full instructor in JKD Unlimited Mixed Martial Arts for the Street™ and holds a certification in Kali (battlefield) under Burton Richardson, who has trained with some of the best Kali/Eskrima/Arnis masters in the world.
In addition to his credentials, Mr. Rodness has extensive training in Muay Thai and has attended the famous (Fairtex) Muay Thai camp in San Francisco. He has trained in Okinawan Weapons (Kobudo) and is proficient in using the bo-staff, sai, nunchaku, kama, and tonfa. In addition to his training with Burton Richardson, Mr. Rodness has trained with some of the best MMA teachers and fighters in the world, including Randy Couture, Baret Yoshida, Egan Inoue, and Charuto Verissimo.
Achievements
1997 ITC National Sparring Champion
1994 ITC National Sparring Champion
Two-time winner: Instructor of the Year (International Tae Kwon Do Council)
Two-time winner: School of the Year (International Tae Kwon Do Council)