Join Us For The Best Fitness Kickboxing Classes in Davis!
Are you ready to make fitness fun again?
Leaving your repetitive gym routine in the dust and take on exciting, dynamic Kickboxing classes at Rodness Martial Arts! Using the fundamentals of martial arts, heavy bags, and a variety of calisthenic exercises, our fitness kickboxing program is guaranteed to boost your overall health and fitness, burn tons of calories, and build lean muscle.
It's Davis's ultimate fitness program. You'll be confident, toned, and stress-free before you know it, so what's holding you back?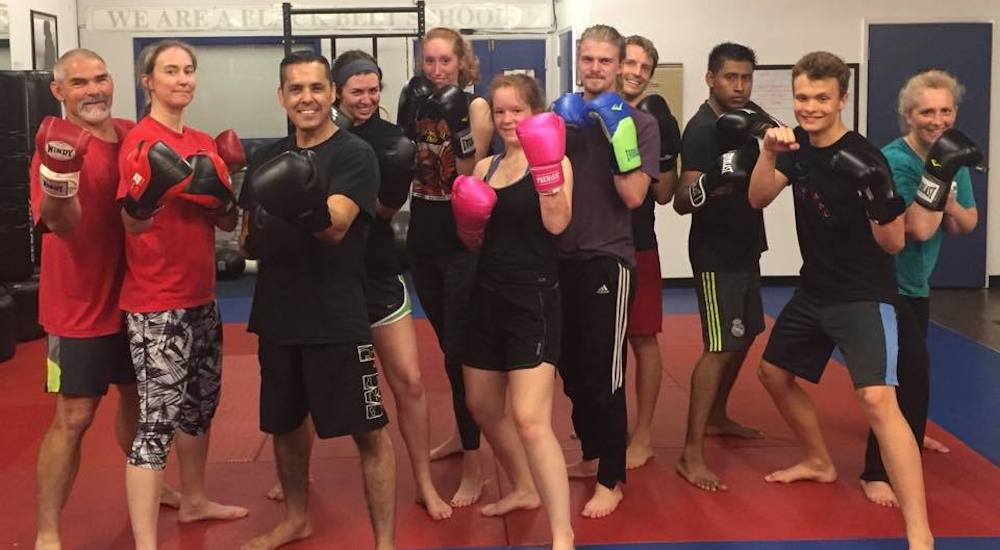 To learn more about our fitness kickboxing classes, just fill out the short form below and we'll reach out to you!
Fitness Kickboxing Is Your Total-Body Fitness Solution
Led by a world-class instructor, Rodness Martial Arts offers Fitness Kickboxing classes that give you the best, most exciting workout in the Davis, Woodland, and West Sacramento areas. Not only will you learn striking techniques and how to deliver maximum power in your kicks, but each Kickboxing class offers intense cardio and will help you build lean, strong muscle.
And you won't just look better... you'll feel better! Our Fitness Kickboxing classes operate in a group environment, so you'll get to take advantage of a supportive and ego-free setting where you can get motivated, stay accountable, and ditch your stress and anxiety. Our goal isn't just to help you get in shape -- we want to help you feel at home in your own body and develop unwavering confidence.
Join us in Davis for Fitness Kickboxing classes that will:
Create healthy, sustainable weight loss & muscle growth
Improve your cardiovascular health & your stamina
Help rid you of stress, anxiety, & low energy levels
Teach the fundamentals of real-world self-defense skills
Give you the confidence you need to face any challenge
Enroll In Your First Fitness Kickboxing Class Today!
At Rodness Martial Arts, we want to inspire you to become the best you can be. Our community comes to us from Davis, Woodland, West Sacramento, and elsewhere because they know the quality of the training we provide. We promise that after your first fitness kickboxing class, you'll be hooked, and you'll see the results in no time.
Call us or just fill out the form below to learn more about our kickboxing program!